Details
LIFELIKE QUALITY
Capture the action in astounding 4K quality and enjoy professional-quality footage equal to that of a Hollywood blockbuster. With the Phantom 3 Professional, you can shoot 4K video (four times that of Full HD) at up to 30 frames per second and take beautiful 12-megapixel still photos to really bring your memories to life. The camera is paired with DJI's advance 3-axis gimbal stabilization technology to ensure you record ultra-smooth, stable footage, no matter how you fly.
PROFESSIONAL LENS
To help you shoot effortlessly stunning images in almost all lighting conditions, the Phantom 3 Professional's camera is equipped with a professional f/2.8 lens with a 94° field of view. This cutting edge lens captures the whole picture, bringing colours to life just as you remember it without any unwanted lens distortion.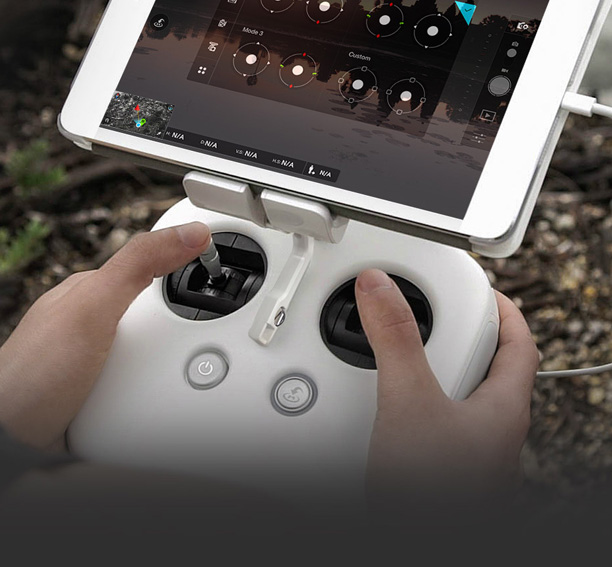 EASY TO FLY
Stay in complete control and fly the way you want with total confidence. The Phantom 3's advanced remote control is incredibly intuitive and easy to use. As well as offering customisable commands this intelligent controller features sensitive control sticks and dedicated buttons that let you take photos or bring it back to you at the touch of a button -up to 1.2 miles away!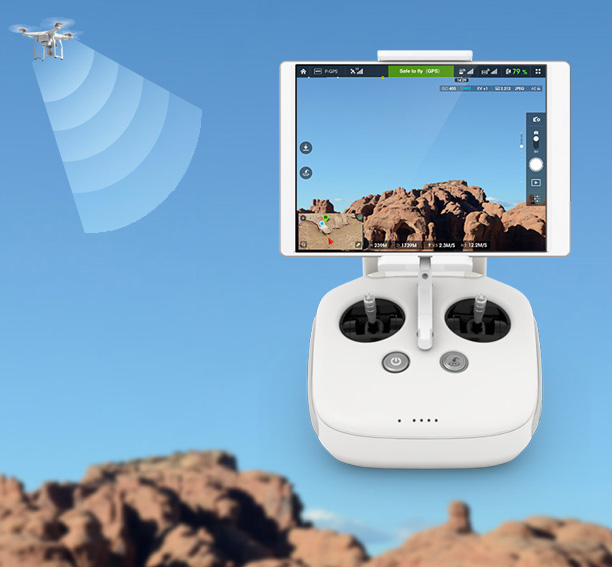 LIVE HD VIEW
See the world from a new perspective and enjoy real time aerial video footage in stunning HD quality. Stream live HD video feed directly on your Smartphone or Tablet device and see exactly what the camera sees in absolute clarity. You can even adjust camera settings to line up the perfect shot.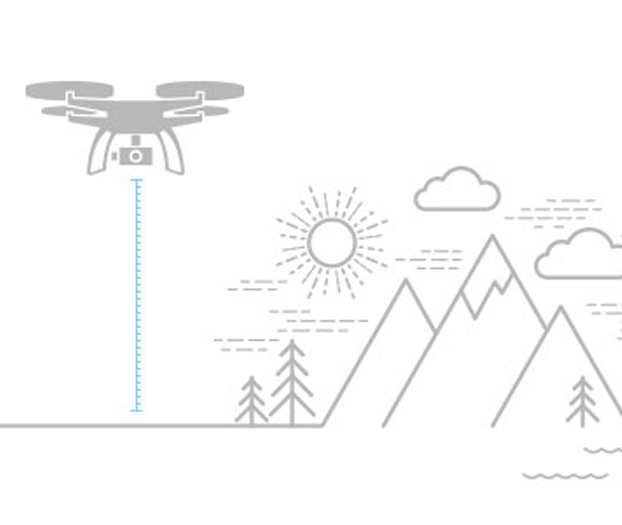 AUTO-HOVER
Thanks to Phantom 3's intelligent flight system you don't have to worry about always staying in control. For example, if you release the controls, the Phantom 3 will hover perfectly in place, holding both position and altitude until you direct it where to go next.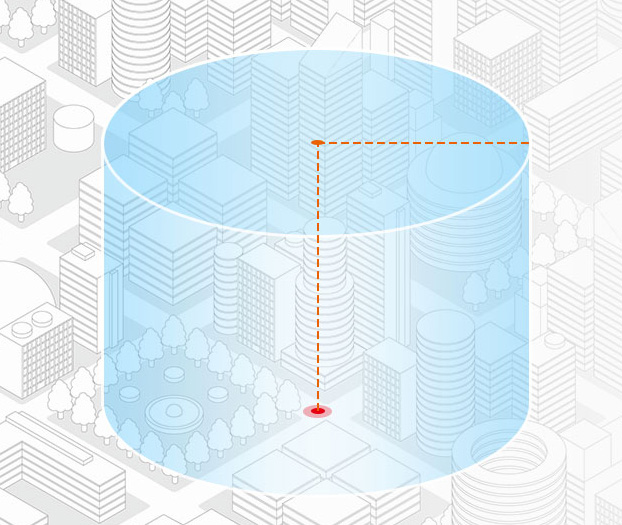 SAFE FLIGHT LIMITS
To prevent the drone from flying into any unwanted areas or objects, you can set the Phantom 3 to only fly within a given distance and height from you. It's perfect for first-time pilots or those looking to put the drone through its paces within a safe, limited area.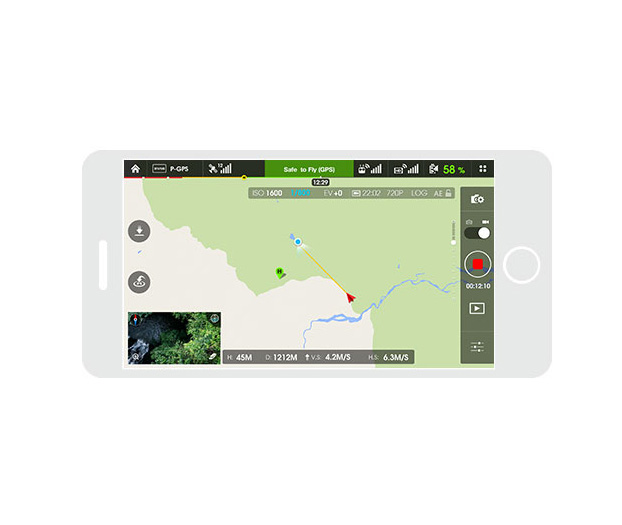 LIVE GPS
To ensure you never lose track of your flight, the Phantom 3 Pro sends its position to a live GPS map on your mobile device. Use this map to see the drone's exact location, know which direction it is facing, and record take-off points to guide it back to you in an instant.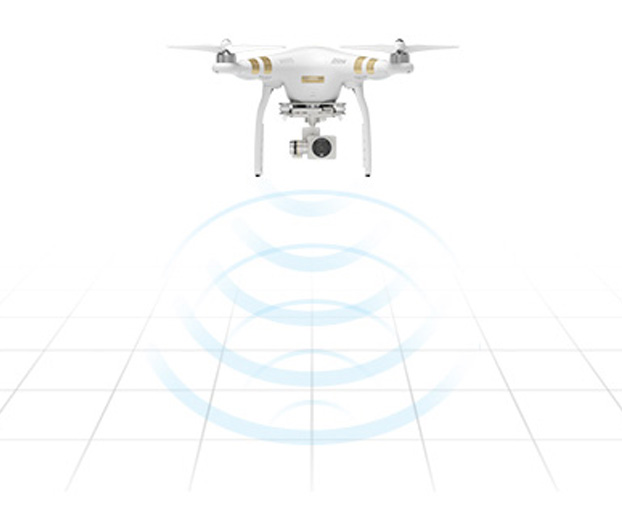 INDOOR FLIGHT
Incorporated with the latest vision positioning technology, the Phantom 3 professional uses sensors to scan the ground beneath it to identify its position even in GPS-free zones. This means you can fly the drone low to the ground or even indoors.

Features:
Included 4K Video / 12 Megapixel Photo Camera

Integrated 3-Axis Stabilization Gimbal

Easy to Fly, Intelligent Flight System

Live HD View

Up to 24 Minutes Flight Time

Dedicated Remote Controller

Powerful Mobile App w/ Auto Video Editor

Vision Positioning for Indoor Flight
Specifications
AIRCRAFT
Weight (Battery & Propellers Included)

1280 g

Diagonal Size (Propellers Excluded)

350 mm

Max Ascent Speed

5 m/s

Max Descent Speed

3 m/s

Max Speed

16 m/s (ATTI mode)

Max Tilt Angle

35°

Max Angular Speed

150°/s

Max Service Ceiling Above Sea Level

19685 feet (6000 m)

Max Flight Time

Approx. 23 minutes

Operating Temperature Range

32° to 104°F (0° to 40°C)

Satellite Positioning Systems

GPS/GLONASS

Hover Accuracy Range

Vertical:

±0.1 m (with Vision Positioning)

±0.5 m (with GPS Positioning)

Horizontal:

±0.3 m (with Vision Positioning)

±1.5 m (with GPS Positioning)
GIMBAL
| | |
| --- | --- |
| Stabilization | 3-axis (pitch, roll, yaw) |
| Controllable Range | Pitch: -90° to +30° |
| Max Controllable Angular Speed | Pitch: 90°/s |
| Angular Control Accuracy | ±0.02° |
REMOTE CONTROLLER
Operating Frequency

2.400 - 2.483 GHz

Max Transmission Distance

FCC Compliant: 3.1 mi (5 km)

CE Compliant: 2.2 mi (3.5 km)

(Unobstructed, free of interference)

Operating Temperature Range

32° to 104°F (0° to 40°C)

Battery

6000 mAh LiPo 2S

Transmitter Power (EIRP)

FCC: 20 dBm

CE: 16 dBm

MIC: 16 dBm

Operating Current/Voltage

1.2 A@7.4 V

Video Output Port

USB

Mobile Device Holder

Tablets and smart phones
INTELLIGENT FLIGHT BATTERY
| | |
| --- | --- |
| Capacity | 4480 mAh |
| Voltage | 15.2 V |
| Battery Type | LiPo 4S |
| Energy | 68 Wh |
| Net Weight | 365 g |
| Charging Temperature Range | 41° to 104°F (5° to 40°C) |
| Max Charging Power | 100 W |
| | |
| --- | --- |
| | The Phantom 3 Professional has been certified by Apple in their Works with iMovie and Works with Final Cut Pro X programs, so you can edit 4K without worry whether you are a professional or shooting for fun. |
CAMERA
Sensor
1/2.3" CMOS
Effective pixels: 12.4 M (total pixels: 12.76 M)
Lens
FOV 94° 20 mm (35 mm format equivalent) f/2.8 focus at ∞
ISO Range

100-3200 (video)
100-1600 (photo)

Electronic Shutter Speed
8 - 1/8000 s
Image Size
4000×3000
Still Photography Modes

Single Shot
Burst Shooting: 3/5/7 frames
Auto Exposure Bracketing (AEB): 3/5 bracketed frames at 0.7 EV Bias
Timelapse

Video Recording Modes

UHD: 4096x2160p 24/25, 3840x2160p 24/25/30
FHD: 1920x1080p 24/25/30/48/50/60
HD: 1280x720p 24/25/30/48/50/60

Max Video Bitrate
60 Mbps
Supported File Systems
FAT32 (≤32 GB); exFAT (>32 GB)
Photo
JPEG, DNG (RAW)
Video
MP4, MOV (MPEG-4 AVC/H.264)
Supported SD Cards
Micro SD
Max capacity: 64 GB
Class 10 or UHS-1 rating required
Operating Temperature Range
32° to 104°F (0° to 40°C)
VISION SYSTEM
| | |
| --- | --- |
| Vision System | Downward Vision System |
| Velocity Range | ≤8 m/s (2 m above ground) |
| Altitude Range | 30 - 300 cm |
| Operating Range | 50 - 300 cm |
| Operating Environment | Surface with clear pattern and adequate lighting (lux>15) |
CHARGER
| | |
| --- | --- |
| Voltage | 17.4 V |
| Rated Power | 100 W |
APP / LIVE VIEW
Mobile App
DJI GO
Live View Working Frequency
2.4 GHz ISM
Live View Quality
720P @ 30fps
Latency
220ms (depending on conditions and mobile device)
Required Operating Systems

iOS 8.0 or later
Android 4.1.2 or later

Recommended Devices

ios: iPhone 5s, iPhone 6, iPhone 6 Plus, iPhone 6s, iPhone 6s Plus, iPod touch 6, iPad Pro, iPad Air, iPad Air Wi-Fi + Cellular, iPad mini 2, iPad mini 2 Wi-Fi + Cellular, iPad Air 2, iPad Air 2 Wi-Fi + Cellular, iPad mini 3, iPad mini 3 Wi-Fi + Cellular, iPad mini 4, and iPad mini 4 Wi-Fi + Cellular. This app is optimized for iPhone 5s, iPhone 6, iPhone 6 Plus, iPhone 6s and iPhone 6s Plus.
Android: Samsung tabs 705c, Samsung S6, Samsung S5, Samsung NOTE4, Samsung NOTE3, Google Nexus 9, Google Nexus 7 II, Ascend Mate7, Huawei Mate 8, Nubia Z7 mini, SONY Xperia Z3, MI 3, MI PAD

*Support for additional Android devices available as testing and development continues.